Understanding How Commission Forex Rebates Work
Forex rebates are a great way of boosting your forex profits. But what are they and how do they work?
If you are a forex investor or a beginner looking to start trading forex, you will have to create a trading account with a reputable forex broker. The broker is the one that provides you with the online platform where you can perform trading.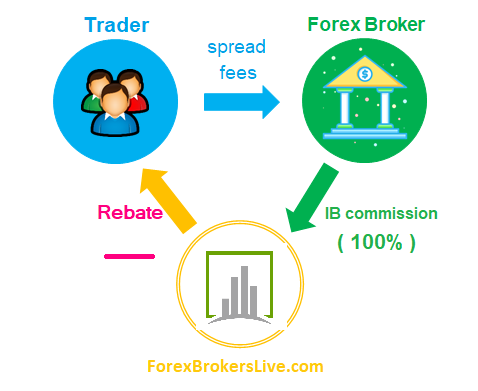 However, the broker is in it for money and is also looking to make profits like any other business. But how do they do that?
Brokers make money from charging commissions, swaps, and spreads on the financial instruments they offer for trading on their platforms. Some brokers only charge spreads, while others charge commissions especially ECN brokers. Other brokers charge both by offering accounts where spreads are charged and other accounts where commissions are charged.
The spreads and commissions, however, lower the profits of traders. The larger the spread and commissions the lower the profits for traders.
Let us take an example: if a trader is using a broker that charged a commission of $7 per lot, it means that for every profit that the trader makes per lot, they will have to be charged $7. If the trader was trading with a broker that does not charge commission, they would not part with that $7.
But why go for a broker that charges a commission?
There are normally two types of forex broker; dealing desk and non-dealing desk brokers.
The dealing desk brokers use market makers to provide market information. However, this gives traders market prices are slightly different from the actual prices provided by liquidity providers. These brokers normally charge spreads some varying and others fixed.
The non-dealing desk brokers, on the other hand, directly connect participants/traders to liquidity providers through ECN and thus provides traders with actual market prices. Though ECN brokers are considered expensive due the commissions, traders looking to access direct market prices prefer them over the dealing desk brokers who are at times said to trade against their clients.
Reducing the commissions through Forex rebates
Forex rebate is a way of giving back some of the money charged as commissions to traders.
This means that the trader can trade at a lower commission using the broker.
For example, if a trader receives a forex rebate of a $2.50 commission discount per trade, if the trader trades 100 lots per month, he/she will have saved $250 that he/she would have paid in form of commissions to the broker.
How to get forex rebates
If you choose to trade using an ECN forex broker like IC markets or Forex4you, there is still a way to reduce the commissions that are charged by registering with a rebate provider like forexbrokerslive.
By registering for an account through forexbrokerslive link you are granted a discount on the commission and the amount deducted as discount as the commission is directly deposited into your account. You simply trade with lower commissions.